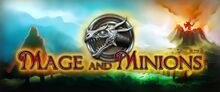 One of the side priorities is to include the two-handed weapons. These weapons will have higher damage, and one more stat for each quality, meaning that legendary items will have 5 stats. These items will have slightly lower attack speed. They (might) include: Other types of staffs, bows, crossbows, spears, advanced axes and some other types of weapons.
Development: Unknown
ETA: Unknown
___________________________________________
Multiplayer and PvP are most likely releasing sooner in 2019. These features are already finished and have passed several balance stages.
Development: Being balanced
ETA: Early 2019
___________________________________________
New quest system to enrich the story of Eternium. Currently being developed by game team.
Development: Finishing
ETA: Early 2019
New class is confirmed to be released, but only in a few words. They of course cannot say who it actually is/will be. It's untold when it will be released. Developers can be easily changing the development priority (use the link below for more).
Development: Started
ETA: Late 2019
____________________________________________
Act V. It was announced in mid-summer of 2018 that the level designers started working on official Act V basics. This is probably the last act in story mode.
Development: Active
ETA: Possibly late 2019
____________________________________________
Ragadam. Sure, he's coming. Stay tuned.
Development: possibly started
ETA: probably to be featured in Act V (late 2019)
Character optimization and making them more personal for their look and characterization. In the works.
More dungeons and dozens of "no story" based levels, like you know them from the old-school games. Development in priority.
Various balance changes.
Please note that clicking on any link will take you away of the Eternium wiki.
1. New class (link leads to the game's forums page): https://forum.makingfun.com/showthread.php?13706-Needed-information-about-new-class-and-online-mode.
Note that the new class is confirmed, but it's not Warlock as the person said.
2. Multiplayer teasers (link leads to the YouTube app): https://youtu.be/iT9XF6GpoEM
3. Bounty Hunter, arrow and bow teasers (link takes you further to YouTube app): https://youtu.be/sawsSleBOU0